The Presidency has declared that all trucks and other vehicles illegally parked along the Oshodi-Apapa Expressway, Lagos be moved away from today.
A team from the Presidency, led by the Special Adviser to the President on Performance and Evaluation and Chairman of the Ports Reform Committee, Professor Sylvester Monye, on Thursday, stressed federal government's commitment to clean up the road.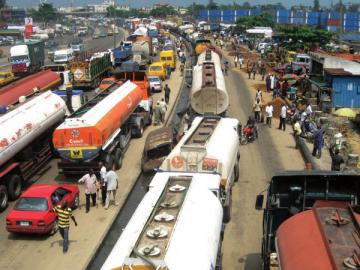 This is coming barely a week after the State Governor, Babatunde Fashola, issued a quit notice to the tanker drivers.
Monye said that the cleanup of the Apapa Wharf area will be similar to what the State Government did at Oshodi, where it brought some order to the once rowdy place.
He also said that notices have already been given to truckers, who were also made to sign undertakings to vacate the area.
Early this year, the state government started removing tankers that were indiscriminately parked on the busy road. However, the support of President Goodluck Jonathan means that the federal road may experience a final clean-up.
The recent indiscriminate parking of trucks along the road and around Apapa Wharf axis, has contributed to the traffic congestion experienced on the route.
Monye explained that the team was in Lagos to apprise the governor on the work and plans of the Ports Reforms Committee for the state.
He added that the Committee had the President's mandate to clear the mess in and around the Ports, including the access roads.
In his reaction, the State Commissioner for Transportation, Kayode Opeifa, confirmed the existing collaboration between the state government and the presidency on the issue.
Culled:Dailytimesnigeria